Crouchy is an animatronic sold by Spirit Halloween for the 2019 and 2020 Halloween seasons. It resembles a red-haired evil clown wearing a red and black suit, with hands that have long black nails and large shoes. When activated, it turns its head and torso as maniacal laughter can be heard.
Spirit Halloween's Description
"There's no doubt that Crouchy has always been the scariest clown in the circus. He really never intended to be scary; it's just that his size and appearance was something that no one had ever seen before. After trying to change everyone's opinion about him, he got tired. He decided to embrace the horror by torturing children with his huge sinister grin that showed off his bloody, dagger-like teeth. Legend has it that Crouchy still travels with the circus, so if you see him around, you better run…FAST!"
"The Crouchy animatronic will tower over all of your visitors as he demonically laughs and moves his body and head side to side."
Exclusively at Spirit Halloween
Includes:

Animatronic
Instruction manual
5.9V2A Adapter
Volume control
External speaker jack

Product Sounds:
Animated
Infrared sensor activated
Step pad compatible (sold separately)
Multi-prop remote activator compatible (sold separately)
Try me button compatible (sold separately)
Battery pack compatible (sold separately)
Adapter Type: 5.9V2A (included)
Battery Type: 4 AA (Not Included)
Cord Length: 6 feet
Dimensions:  84" H x 34" W x 23" D
Weight: 22 pounds
Material: Metal, fabric, latex foam, plastic, electronic parts
Care: Spot clean
Imported
CollectorNote: Recommended for display in covered areas
WARNING: Do not use if allergic to latex
Trivia
The animatronic's audio was changed for unknown reasons, with the original version in Spirit Halloween's sneak peek video, which is a similar situation to the Pumpkin Patch Prowler in 2018.
According to a first-hand viewing of the original prototype of Crouchy, the clown's head originally was vastly different from what it appears like now. Crouchy originally had grey rather than white skin, along with dark hair and eyes with actual pupils. In addition, Crouchy's head was intended to connect to the body via a two-prong connection, similar to the 2012 Swinging Zombie Girl.
Gallery
Videos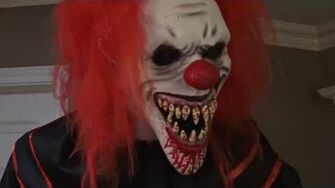 Official Listing
Community content is available under
CC-BY-SA
unless otherwise noted.