Resurrection Mary was an animatronic sold by Spirit Halloween for the 2010 Halloween season. It resembled an undead woman with black hair, blank eyes, and in a black dress behind a tombstone. When activated, it would lunge up, causing the tombstone to knock-over, revealing the figure. When in the up-position, the head begun to spin, as screaming and music could be heard.
Spirit Halloween's Description
"Some folks just don't know when the party's over - Resurrection Mary won't leave, ever! Turn heads when, at the slightest sound, this animated prop pushes down her tombstone to rise up - her head starts to glow and spin in a horrifying reminder that there is an afterlife and it's coming to get you. Over two feet tall!"
The sound-activated Resurrection Mary Animated Prop pushes down her tombstone to rise up and scare all who pass with a glowing head that spins a full 180 degrees.
Requires 4 AA batteries; not included.
Optional 6V adapter and foot pad activator available
Indoor or outdoor use
Trivia
The animatronic's scream is the same stock sound effect used in the Broken Spine Girl and the Twitching Banshee animatronics' audio.
The laugh track was later reused for the Sitting Scare Witch.
The namesake is Resurrection Mary; a real-life phenomenon that is said to haunt Chicago.
The tombstone was later reused for the Jumping Skull with Tombstone animatronic.
The head sculpt was reused for the Sitting Scarecrow, but covered with burlap.
The 2010 model had really long hair, and would eventually get caught in the mechanism and break. When Tekky Design remade it in 2011, they cut the hair short above the neck.
The 2010 model featured a red LED in the head so it would illuminate in the dark, the 2011 model had no light.
Gallery
Videos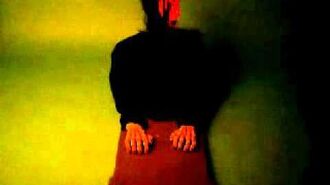 Community content is available under
CC-BY-SA
unless otherwise noted.