This User is an Official Affiliate with the Spirit Halloween Wiki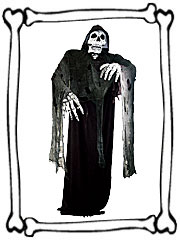 Hello, I am CreativeCat. I have always been a hardcore collector of Halloween animatronics, props, and decorations, especially Spirit Halloween exclusives. I have gone to a Spirit Halloween location every year since 2001, with the first animatronic I remember being the Lifesize Rocking Skeleton. Since 2010, I have taken short clips of animatronics at a variety of Spirit Halloween locations in Minnesota. I also took several photos in 2009, but I lost them and have been unable to recover them.
In 2017, I was hired as a sales associate at my local Spirit. I was later promoted to an assistant manager in 2019.
I am very passionate about Spirit Halloween animatronics, more specifically their boxes. As a collector I pay very close attention to boxes, how the design changes each year, the sizes relative to the respective animatronics, among other features.
My favorite manufacturer of Spirit props is YJ Toys and Crafts, which is also the company that produced my all-time favorite animatronic: The Mad Scientist. My least favorite manufacturer of Spirit props is Crazy Create.
In general, I prefer classic animatronics with simple movements over jumpscare animatronics. I also love larger-than-lifesize animatronics.
I have created an archive of memorable Spirit Halloween products ranging from 2002 to 2014, an archive of all Y.J., Wo Yu, and PartyTime products at Spirit, and a website dedicated to my personal Spirit collection. I am also an active Halloween Forum member.
My favorite pages
My Spirit animatronics
2006:
2007:
2008:
2009:
2010:
2011:
2013:
2014:
2015:
2017:
2019:
2020:
My Spirit props
My Zombie Babies
My Non-Spirit Props
Community content is available under
CC-BY-SA
unless otherwise noted.