"It's all fun and games until someone loses their soul!"
-Uncle Charlie
Here you'll find all you need to know, and more, about countless facts and information nobody asked for, about the not-so popular user, Halloweenman642!
Have a great stay at this cringey profile!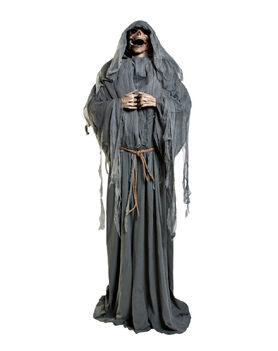 Hello! Welcome to my profile/domain! I'm Halloweenman642, and I'm a bureaucrat on this Wiki. My main goal on this Wiki is to create as much meaningful information as possible and to keep the Wiki neat and clean. I am on the Wiki basically whenever I feel like, even when the place is dead. I also create articles for animatronics/props that need to be created, as well as fixing up articles. I've been really into Halloween since I was around three, and my fascination has only grown since then.
---
Spirit Halloween Related information about myself
My first year going to Spirit was 2011 after a location opened right next to where my Dad worked.

I was terrified of it at first, but I was brought there anyways.

The year I officially joined the haunter community is 2015.
My favorite Spirit Halloween year is 2010.
10 Favorite Animatronics of all Time
Cagey The Clown
General Interests/Hobbies
I love pretty much anything horror, especially the Alien franchise.
I enjoy drawing a lot.
I have an odd fascination with The Haunted Mansion.
I've been fascinated by robots and pretty much any mechanical-related thing since a very young age.
I enjoy helping out as much as I can.
I love both Dogs and Cats. (As I have a 15 year old Tuxedo Cat and an almost 3 year old Pembroke Welsh Corgi.)
I enjoy fixing my animatronics.
I like video games, particularly horror ones.
I love Halloween and decorating for it.
Of course, I love Spirit Halloween.
Favorite Movie
Favorite Video game
Favorite TV Show
Favorite Musical Artist
Favorite Colors
Magenta
Emerald
Amber
Purple
Blue
Yard Displays
(2008-2014 were generic graveyards but I thought I'd mention them here.)
The Gates of Hell (2015)
The Vampire Crypt (2016)
The Butcher Shop (2017)
The Lost Castle (2018)
The Laboratory of Lost Experiments (2019)
2020 Wish List
---
I first discovered the Wiki when I was creating a Spirit Halloween archive. I instantly fell in love with the Wiki when I saw it. Since then, I have been contributing (nearly) daily. Although the archive is not complete, progress is being made on it.
To-Do List
Add images to articles that need them.
Recreate/Create articles that have been deleted or haven't been created.
Not go on "Hiatus" for four months again.
Fix up a few things on my profile.
Shop for Halloween!
Edits of

Halloweenman642

on Spirit Halloween Wikia
Total:
6,733
Article:
4,583
Talk:
187
Board Thread:
0
User:
273
User talk:
0
Thread:
199
Project:
0
File:
991
File talk:
0
Template:
1
Template talk:
0
Category:
51
Category talk:
0
Forum:
0
User blog:
26
User blog comment:
22
---
That's all for now! There may be more added to this page in the future, but until then, I'll see you later! (Maybe.)
---
Community content is available under
CC-BY-SA
unless otherwise noted.